Online Songwriting Lessons
Song writing is a favorite of ours at Sing Sing Sing! Song writing is an amazing, cathartic experience which also creates a wonderful sense of accomplishment. Our teaching team includes several talented published songwriters and many of our song writing students have gone on to professionally record and release their original songs. Regardless of your goals, whether you just want to express yourself or if you want to pursue your dreams of becoming a recording artist, our online songwriting lessons will be tailored to your individual aspirations.
Thank you so much to Angelo and the Sing Sing Sing family for all of your hard work and all the good you do for the community!! I couldn't be more proud to know that my daughter is learning music and performance from the amazing teachers there!!! You truly do so much good.
Melody Molinaro has been my vocal coach for three years and it has been the most rewarding experience of my life. Melody's knowledge of music spans all genres and generations. She is professional in her approach to music lessons while at the same time very nurturing and supportive.
Melody is an amazing teacher and extremely talented musician. Our daughter is excited to practice and come to her lessons every week. Melody makes sure she continues to make progress and is very positive towards the goals our daughter has set for herself. We highly recommend her!
My daughter has taken voice and guitar lessons from Melody for over 4 years. I honestly can't say enough wonderful things about her. Her knowledge, talent, and patience makes her an outstanding teacher.
I caught some of their students and instructors at a recent performance at Steamworks Creative! They really know how to teach!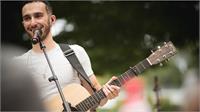 Born and raised in Pittsburgh, Pennsylvania, AJ Raggs - Angelo Ragghianti - has been performing for almost 11 years. AJ performs year-round as a cantor in his local church and at Saint Paul Cathedral in Oakland, at weddings, restaurants, retirement living homes, and church festivals in the Pittsburgh area.In May of 2017, AJ graduated from Carnegie Mellon University with University Honors and a BFA in vocal performance, At CMU, he studied under baritone Daniel Teadt. There, he was a member of the CMU Originals, an award winning all male a cappella group that placed 2nd in the world in the 2016 Inter-Collegiate Championship of A Cappella. AJ's YouTube Channel has over 50,000 views and 200 subscribers. Currently, AJ is recording his first EP at Audible Images Recording Studios in Millvale, PA. The Grammy Award Winning studio has recorded some of today's hit artists, including Ariana Grande, Daya, and Ne-Yo, among others. At CMU, AJ was also an active member in Scotch and Soda Theatre, the student run premiere theatre group on campus. Recently, he performed there as Gomez Addams in The Addams Family Musical. He has also been seen in Strauss's Die Fledermaus as Alfred, and Pane in Francesco Cavalli's La Calisto on the CMU Opera Stage. AJ was a student at the Afro American Music Institute (AAMI) in Homewood, PA for eight years. There he studied Jazz piano under Howard Alexander III, and Jazz voice under Dr. James Johnson II.
Lessons starting at: $35

Packages of 10 lessons available at a 10% discount.