Pittsburgh Acting Monologue Study
Calling all actors! Get ready for your next audition by mastering the monologue. Our instructor will help you analyze monologues including learning what obstacles, tactics, and objectives are and how to use them to your advantage. We will help you identify appropriate monologues for your auditions and then fully prepare you to nail those auditions! Interested in Pittsburgh Acting Monologue Study? Contact us today!
Thank you so much to Angelo and the Sing Sing Sing family for all of your hard work and all the good you do for the community!! I couldn't be more proud to know that my daughter is learning music and performance from the amazing teachers there!!! You truly do so much good.
Melody Molinaro has been my vocal coach for three years and it has been the most rewarding experience of my life. Melody's knowledge of music spans all genres and generations. She is professional in her approach to music lessons while at the same time very nurturing and supportive.
Melody is an amazing teacher and extremely talented musician. Our daughter is excited to practice and come to her lessons every week. Melody makes sure she continues to make progress and is very positive towards the goals our daughter has set for herself. We highly recommend her!
My daughter has taken voice and guitar lessons from Melody for over 4 years. I honestly can't say enough wonderful things about her. Her knowledge, talent, and patience makes her an outstanding teacher.
I caught some of their students and instructors at a recent performance at Steamworks Creative! They really know how to teach!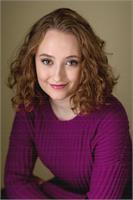 Emmeline Jones is a recent graduate from Point Park University where she currently holds a Bachelor of Arts degree in Theatre Arts with a minor in Musical Theatre. Originally from Southern Maryland, Emmeline moved to Pittsburgh in 2016 to attend college and has since made the city her new home. Aside from her background in theatre and dance, her love for music began as a young child when she began studying classical violin and piano. She has performed in Pittsburgh at The Pittsburgh Playhouse and with Stage 62, as well as with theaters in Northern Virginia and Southern Maryland. Emmeline is thrilled to be able to share her joy for music, dance, and theatre with the next generation at Sing Sing Sing!
Lessons starting at: $35

Packages of 10 lessons available at a 10% discount.